ABOUT DJ JIMBO ENTERTAINMENT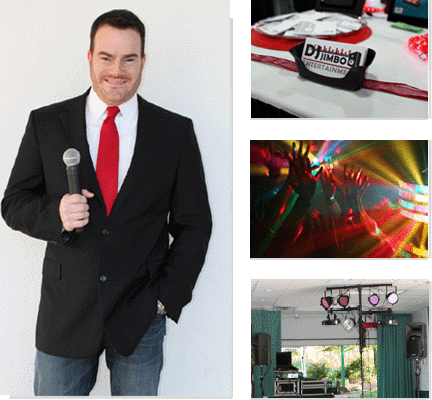 DJ JIMBO ENTERTAINMENT is a premier DJ service based in Lehigh Valley PA. DJ JIMBO has been providing professional, affordable DJ services to the greater Lehigh Valley area, Eastern PA, Central PA and Western NJ since the 1990s.
Planners of a special event often hire a friend with home stereo equipment – or an amateur DJ – to handle the music for their event. Unfortunately these inexperienced individuals can often lead to all sorts of unexpected problems. This person may play inappropriate songs, use poor or sub-standard equipment and lack the experience to know how to avoid those annoying feedback screeching sounds. They often play the music too loud, or too soft, or the wrong songs, or the same songs over and over and over again! They will have no insurance to cover your event, they may behave unprofessionally, they may show up late for your special event, or worse, not at all!
DJ JIMBO ENTERTAINMENT…"MUSIC FOR THE MOMENTS THAT MATTER"
DJ JIMBO believes your event deserves a pro DJ and that is exactly what DJ JIMBO ENTERTAINMENT offers you: the best experienced pro DJ who understands you want Music for the Moments that Matter! Music is the heartbeat of any successful and memorable event and DJ JIMBO understands that. Your event needs a professional DJ with one primary goal: to help you have the BEST party, event or celebration!
DJ-JIMBO ENTERTAINMENT is founded, owned and operated by Jim Marchetto.  A former teacher and social worker, Jim has always believed in the importance of celebrating life's special moments and he created DJ JIMBO in order to help people of all ages and backgrounds to cherish these life milestones with their friends, family, loved ones, neighbors and clients. Jim is passionate about the power of music, dance, and celebration and he is always truly honored to be part of you special events! Jim is an alumni of Penn State University and is married to Rev. Joanne Marchetto of "The Barn" Church. He is also the proud father of two wonderful children.

WHY HIRE DJ JIMBO ENTERTAINMENT FOR YOUR EVENT?
We have been providing professional DJ services since the 1990s and we know how to create the BEST atmosphere for your wedding, birthday party, reunion, school dance, charity event, fashion show, work event, holiday party or for ANY TYPE OF DJ EVENTS!
We offer a choice of affordable DJ PACKAGES!
We're the best pro DJ that covers the Lehigh Valley area, Eastern PA, Central PA, Western NJ – and more!
We know that planning an event doesn't need to be stressful when you have the right help!
We take the time to help you personalize your special events!
We use state-of-the art equipment!
We have backup equipment that is always available at your event!
We have a library of tens of thousands of titles and constantly growing!
We know all the latest popular hits!
We have titles from various musical genres!
We can play requests and we take the time to discuss your song choices with you!
We offer professional DJ intelligent lighting effects including light shows and uplighting!
We offer additional audio systems for your special event!
We know the proper etiquette for your event!
We are suitably dressed for your event!
We always ensure the proper amount of "set-up" time!
We carry liability insurance and are happy to show you proof of insurance!
We provide you with a written contract!
We are a proud member of the National Association of Mobile Entertainers!
DJ-JIMBO can often even provide you with leads for other special event vendors!

ONLY THE BEST EQUIPMENT FOR YOUR EVENT!
DJ JIMBO ENTERTAINMENT has up to three complete systems for your event and we can customize your entertainment setup based on the needs of your special event (i.e. the size of your venue, the number of guests, dual locations, etc). DJ JIMBO ENTERTAINMENT only uses professional audio equipment from brands such as Mackie, Numark, Shure, Yamaha, QSC, EV, Denon DJ, Behringer and OTS AV. Our intelligent lighting systems include fixtures and components from Chauvet, American DJ, Venue, and Blizzard Lighting. Even our accessories are professional grade, including cables from Mogami, Accu-Cable, and Monster Cable; Furman power conditioners; and Ultimate stands to name a few.
DJ JIMBO ENTERTAINMENT PROVIDES GREAT DJ SERVICES AT GREAT RATES!
To review all of our affordable rates please visit our DJ Packages page. If you would like a more exact quote for your anniversary party simply contact us anytime at 610-509-2983 or fill out the Request FREE Quote form by clicking on the Request FREE Quote button below:

No matter what your event, we know how to create Music for the Moments that Matter!