OUR "ALL THE BASICS" PACKAGE
ALL THE BASICS PACKAGE – $950†
A popular choice for various event planners, this package is the perfect choice for ANY event where you want to be sure you have 'the basics' covered.
This packages includes:
A professional DJ JIMBO ENTERTAINMENT disc jockey for up to 5 HOURS
Our powerful 900w system
Emcee services
Travel time to/from event†
Prep/setup time
(1) Face-to-face consultation and event planning meeting
Email/phone consultation and event planning
There are NO extra set up or tear down charges
SOMETHING MISSING FOR YOUR EVENT?
Need something for your event that is not included in this package? No problem! Consider our other packages or choose from our list of Add-on Items! Please contact us if your are interested in discussing any of these add on options!
DANCE LIGHTSHOW (including LED Intelligent Lighting & Laser Lighting)
SECOND SYSTEM (includes up to 1 hour of additional time to use for ceremony or cocktail hour in adjacent room or outside venue)
THIRD SYSTEM (required when your wedding day events take place in three separate areas/rooms at the venue)
DLP VIDEO PROJECTOR
PROJECTOR SCREEN (65″ standard or 80″ widescreen)
40″ TV (mounted to tripod)
UPLIGHTING (aka LIGHTSCAPING): We use wireless intelligent fixtures, providing controllable custom color(s) without unsightly/hazardous cords.
CUSTOM MONOGRAM PROJECTION: Custom designed for you and can include your Initials, Name(s), &/or Date.

NOTE: Individual pieces of equipment can not be rented out alone and only representatives of DJ JIMBO ENTERTAINMENT are permitted to operate these devices.




Not sure which DJ JIMBO ENTERTAINMENT package is right for you?
Compare our plans by clicking on the COMPARE button above!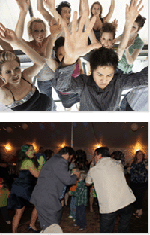 SAVE YOUR DATE!
Dates can fill up quickly!!
If you wish to reserve your date with DJ JIMBO, please provide us with your information by completing the Request FREE Quote online form.
Party Package | Movie Night Package | All the Basics Package | Light Up the Night Package |
Love is in the Air Package | Live the Dream Package
†The price for this package is based on venues or locations that have physical addresses within DJ JIMBO's billing definition for "Lehigh Valley." "Lehigh Valley" includes all of Lehigh County; all of Northampton County (EXCEPT Lower Mount Bethel, Upper Mount Bethel, and Washington townships); and Maxatawny Township (Berks County) and Longswamp Township (Berks County). Venues or locations that have a physical address outside of "Lehigh Valley" will be charged $25 per every 1/2 hour increment of travel time to/from venue and/or event location. Any meetings required by DJ JIMBO clients outside of this definition of "Lehigh Valley" will also be charged $25 per every 1/2 hour increment of travel time to/from the designated meeting location. Travel time will be determined through Google Maps with DorneyPark (Allentown, PA) as the starting location. In instances where Google Maps provides more than one time estimate, DJ JIMBO ENTERTAINMENT will choose the route they deem most effective and safe for the delivery of DJ JIMBO personnel and equipment.

From wedding receptions to anniversary parties, from college dances to elementary school dances, from birthday parties to graduations, from charity events to fashion shows, DJ JIMBO ENTERTAIMENT is the best pro DJ for YOUR special event! We've been providing professional and affordable DJ services in the Lehigh Valley, Easter PA, Central PA and Western NJ since the 1990s. We treat every event as if it was our very own and we invite you to explore our website – and all that DJ JIMBO offers you – as you plan your next event. We are the DJs who know you want "Music for the Moments that Matter!" and we hope you let us help you create the most successful and memorable event possible!
Some planners of a special event hire a friend with home stereo equipment – or an amateur DJ – to handle the music for their event. Unfortunately these inexperienced individuals can lead to all sorts of unexpected problems. This person may play inappropriate songs, use poor or sub-standard equipment and lack the experience to know how to avoid those annoying feedback screeching sounds. They often play the music too loud, or too soft, or the wrong songs, or the same songs over and over and over again! They will have no insurance to cover your event, they may behave unprofessionally, they may show up late for your event or worse, not at all!
Your event deserves a pro DJ and that is exactly what DJ JIMBO ENTERTAINMENT offers you: the best experienced pro DJ who understands you want Music for the Moments that Matter!
WHY HIRE DJ JIMBO ENTERTAINMENT FOR YOUR EVENT?

We know how to create the BEST atmosphere for your wedding, birthday, reunion, school event, charity event and for ANY type of DJ EVENTS!
We offer a choice of DJ PACKAGES!
We have been providing DJ services since the 1990s!
We cover the Lehigh Valley area, Eastern PA, Central PA, Western NJ – and more!
We take the time to help you personalize your special events!
We play the music YOU request!
We offer reasonable DJ rates!
We use state-of-the art equipment!
We have a library of tens of thousands of titles and constantly growing!
We know all the latest popular hits!
We have titles from various musical genres!
We offer professional DJ intelligent lighting effects including light shows and uplighting!
We offer additional audio systems for your special event!
DJ-JIMBO can often even provide you with leads for other special event vendors!

10 MORE REASONS TO HIRE DJ-JIMBO FOR YOUR SPECIAL EVENT
We know that planning a special event doesn't need to be stressful when you have the right help.
We carry liability insurance and are happy to show you proof of insurance.
We only use professional equipment.
We have "backup" equipment that is always available for your event.
We know the proper etiquette for your event.
We are suitably dressed for your event.
We can play requests and we take the time to discuss your song choices with you.
We always ensure the proper amount of "set-up" time for your event
We provide you with a written contract.
We are a proud member of the National Association of Mobile Entertainers.
DJ JIMBO ENTERTAINMENT PROVIDES GREAT DJ SERVICES AT GREAT RATES!
If you would like a more exact quote for your event simply contact us anytime at 610-509-2983 or fill out the Request FREE Quote form by clicking on the Request FREE Quote button below:

DJ JIMBO ENTERTAINMENT serves the Lehigh Valley area, Eastern PA, Central PA, Western NJ and beyond!

No matter what your event, we know you want Music for the Moments that Matter!